Miracle Worker
Theatrical Release:
November 12, 2000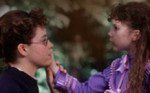 Synopsis
In this compelling story of unconditional love and perseverance, the Kellers of Tuscumbia, Alabama, are a family in crisis. Their eight-year-old daughter Helen has been blind, deaf and mute since she was 18 months old, and her most consistent form of communication is to grab, tear and scratch violently at anything, or anyone, handy. Captain and Kate Keller feel such tremendous love and pity for Helen that they indulge her every whim. The result is that they have lost any semblance of peace in their home and son James bitterly resents how much attention is lavished on his half-sister.
The Kellers make one last attempt to find a solution to their daunting problem. The Perkins School for the Blind in Boston offers to send one of their best students, Annie Sullivan, to the Keller household to be Helen's live-in teacher in 1887. Annie's determination leads Helen to a climactic breakthrough that allows her to discover the world through the eyes and ears of others. Growing into one of the most extraordinary women of any time, Helen served as an international leader for the disabled, with the assistance of the lifelong friendship and support of her teacher and mentor, Annie Sullivan, whose groundbreaking techniques for teaching deaf and blind people are still being used today.
Dove Review
I'm one of the few people not blown away with the precocious, hammy performance of little Hallie Kate Eisenberg in all those Pepsi commercials. Perhaps that's what surprised me the most about the incredible retelling of Helen Keller's early years. Little Ms. Eisenberg gives a full dimensional and completely compelling performance as a deaf, mute, and blind child. But then, director Nadia Tass has brought out perceptive and engaging portrayals from all her gifted cast. The script only looks at the beginning of Helen Keller and Annie Sullivan's association. Both would go on to impact the world they lived in. Hopefully, a sequel will reveal the Christian stance Keller took and show how these two women brought compassion and understanding to a world that feared those with physical handicaps.
Info
Industry Rating:
Not Rated
Reviewer:
Phil Boatwright