Men of Honor
Theatrical Release:
November 10, 2000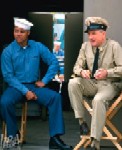 Synopsis
The son of a Kentucky sharecropper enlists in the Navy with an eye on becoming the first African American Navy diver. He battles prejudice, an embittered instructor, and several other obstacles as he determinately aims at becoming a Master Chief Navy Diver.
Dove Review
Every American institution has had segregation as a part of its make-up. Distrust, dislike, or just plain ignorance, has separated whites from blacks since the formation of our country. Overcoming bigotry has been a wearisome battle for minorities. But this continued struggle for equality has provided Hollywood with a gold mine of material by exploiting the conquest of injustice. Here we have a black man berated over and over, simply because of the color of his skin. Not only is he immediately assigned to galley work, but he is not even allowed to swim in the ocean on the same day as his white comrades. DeNiro and Gooding are exceptional talents, but the abusive behavior becomes tedious. Inner torment, alcoholism, marital woes, bigotry, injustice – man, there are fewer problems on a year's worth of "Days of Our Lives" episodes.
Content Description
Language: GD 22, F-word 12, S-word 9, SOB 6, ass 12, expletives 20, several crude slang terms for the human body – Sex: implied sexual relations outside marriage; many crude sexual references – Drinking: several people drink on different occasions; twice we see leads drunk; DeNiro's character is an alcoholic, at one point committed for alcoholism – Smoking: DeNiro smokes a pipe throughout; several characters are seen smoking – Violence: a helicopter crashes into the ocean, with a wounded and dead man floating in the water; DeNiro's character is abusive both physically and verbally to his men; a man head-butts another and overpowers another in a brief fight; a fist fight; a man's leg is injured, a bloody scene; a car crash, no one is injured
Info
Company:
20th Century Fox
Director:
George Tillman, Jr.
Reviewer:
Phil Boatwright