13 Days
Theatrical Release:
January 19, 2001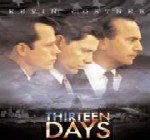 Synopsis
When it is discovered that soviet missiles are being deployed in Cuba, dramatic events lead the United States and the former Soviet Union to the brink of nuclear war. What sounds like the makings of a tense movie of the week, was actually a reality. Screenwriter David Self pored through the vast body of literature and scholarship on the Cuban Missile Crisis, reading memoirs and books with their varied accounts. He examined journalism's vast visual and print record of the events and he studied a number of declassified CIA documents. In addition, he spent hours listening to Kennedy White House tapes, which revealed in strikingly candid detail just how aggressive some advisers were in pushing the President to engage in an all-out nuclear war with the Soviets.
Dove Review
A real nail biter! These true events come candidly and frighteningly to life with David Self's enthralling script and the perceptive performances of the film's splendid cast. Unfortunately, each character profanes God's name. Although men under pressure are bound to utter words they normally would not, when filmmakers use God's name followed by a curse 14 times and Jesus' name is used as a mere expletive, like saying "Darn it," 15 times, it loses creativity and portrays the characters as men who do not reverence God. If not for the language, this film could have been Dove approved.
Content Description
Drugs:
JFK takes pain drugs and drinks scotch in one scene to relax; the leads take a drink a couple of times.
Info
Company:
New Line/Fine Line
Reviewer:
Phil Boatwright