In the Mood for Love
Theatrical Release:
February 16, 2001
DVD Release:
April 16, 2001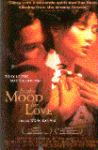 Synopsis
Set in 1962 in Hong Kong, this romantic drama (with subtitles) concerns two neighbors who discover that their spouses are having an affair. They soon become drawn to each other and their friendship develops into something more. Not wanting to be like their adulterous mates, however, their feelings remain hidden from their neighbors and from themselves.
Dove Review
Although this story takes place in the sixties, it mirrors the despair and the aloneness created by today's cyber-obsessed generation. Despite the ability to reach out to people throughout the world by the mere touch of a computer keyboard, people are feeling more cut-off than ever before. This is the tale of two such people. The lead characters eat, go to work, and secretly pang for someone to eat and work with. But their life and desire for companionship go unfulfilled. Like zombies, they walk around soulless, as if marooned on desolate islands.
While I can approve it for mature viewers due to the lack of objectionable material usually associated with this subject matter, for me it had an overall feeling of melancholy and hopelessness. It is well acted and subtly directed, but I left the theater feeling depressed.
Info
Reviewer:
Phil Boatwright