The Women of Camelot: Jackie, Ethel, Joan
Theatrical Release:
March 4, 2001
DVD Release:
November 2, 2004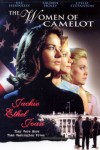 Synopsis
They were more than Washington wives. They were part of an American dream known as Camelot. With strength and cunning they upheld their public image by concealing their private truths. Jackie, Ethel and Joan had little choice. They were Kennedy women.
What really unfolded behind the monolith of Kennedy power is revealed for the first time in Jackie, Ethel, Joan: The Women of Camelot, based on the bestselling book by J. Randy Taraborrelli.
With an all-star cast including Jill Hennessy (Law and Order) as Jackie, Lauren Holly (Any Given Sunday) as Ethel, Leslie Stefanson (The General's Daughter) as Joan, Robert Knepper (Everyone Says I Love You) as Bobby, and Daniel Hugh Kelly (Havana) as JFK, Jackie, Ethel, Joan: The Women of Camelot makes for a rare event that will touch, surprise and inspire everyone who sees it, for it offers what no other film of its kind ever has: the true story of the Kennedy reign told through the eyes of the three women who lived it.
Dove Review
The stories behind the Kennedy family have been told many ways but this film gives the women a chance to tell their tale. The way the story is told touches your emotions. It wants the audience to see things from the view of Jackie, Ethel and Joan as they dealt with affairs, emotional abuse, family, fame, wealth and death. It showed what a great power these women had and the important role they played to help their husbands' campaign for office.
This movie shows that the life people saw was not what was going on behind closed doors. With so many movies out today about the Kennedy family it's hard to know what is true. It's still an intriguing part of history and we need to see that the Kennedys were a family with their own trials and sorrows.
Adultery is a very heavy subject of this film and although the drinking and smoking are appropriate to the time period, we award the Dove "Family-Approved" Seal for ages twelve and up.
Info
Company:
Echo Bridge Home Entertainment
Reviewer:
Stacey Lanstraat