Spy Kids
Theatrical Release:
March 30, 2001
DVD Release:
September 18, 2001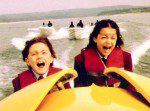 Synopsis
Gregorio (Antonio Banderas) and Ingrid (Carla Gugino) are the two greatest secret agents the world has ever known: masters of disguise, mavens of invention, able to stop wars before they even start. Working for separate countries, they are sent to eliminate their most dangerous enemy…each other. But in an exotic corner of the world when they finally come face to face, they fall in love instead and embark on the most dangerous mission they have ever faced: raising a family.
Now, nine years later, after their retirement, having exchanged the adventure of espionage for parenthood, Gregorio and Ingrid Cortez are called back into action. When their former colleagues, the world's most formidable spies, start disappearing one by one, the Cortezes are forced to take on techno-wizard Fegan Floop (Alan Cumming) and his evil, egg-headed sidekick, Minion (Tony Shalhoub). But when the unthinkable happens and they too disappear, there are only two people in the world who can rescue them…their kids.
Armed with a bag of high tech gadgets and out-of-this world transportation, Carmen (Alexa Vega) and Juni (Daryl Sabara) will bravely jet through the air, dive under the seas and crisscross the globe in a series of thrilling adventures on a mission to stop Floop and save their parents…and maybe even the world. Sometimes the biggest heroes are the smallest ones.
Dove Review
This is a film in which the kids are the heroes. There is a lot of fantasy action and a bit of violence. There is a truthful and rewarding moment at the end when a character mentions it is difficult to work at being a family but necessary. There are gadgets of all sorts in this movie, including an acid crayon which burns through things like the bars of a jail. There is enough action to keep the kids interested, and the cast includes Antonio Banderas, Teri Hatcher, and an appearance by George Clooney. We recommend this film for all ages.
Info
Reviewer:
Edwin L. Carpenter