Tailor Of Panama
Theatrical Release:
March 30, 2001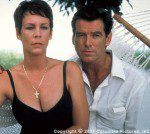 Synopsis
This spy thriller/black comedy based on the 1996 John le Carré novel concerns ruthless, if not always successful, British spy Andy Osnard (Brosnan), who finds himself banned to Panama. Looking for an informant, someone who knows everyone in Panamanian high society, Andy quickly selects financially-troubled Harry Pendel (Rush), a Cockney ex-con who has reinvented himself as a popular local tailor. But Andy is not looking to help guard Queen and country. He's looking to make a financial killing before retiring. As famous for his storytelling as his tailoring, Harry's innocent yarns lead both men down a dangerous road.
Dove Review
Directed with wit, energy and enough of the novelist's complex plot diversions to keep the viewer transfixed, but this film unfortunately lives up to its R-rating. Not only does it bandy Christ's name around like a benign expletive, but it manages to get in more obscenity per scene than any other spy thriller in history. And let's not forget its sexuality, which doesn't pass for romance or even lust. These sexual situations are brutish, animal-like. Dashing Andy is about as carnal as a human can get. And he has a stock line that works for guys with James Bond looks and no affinity for the Ten Commandments. He's not above seducing a friend's wife, and in one scene, as Harry and Andy converse in a brothel, lesbians fondle one another on Andy's television while a copulating couple bounce around in the background.****** Cynical, violent, obscene, anti-conservative, and not always factual about its political statements, "The Tailor Of Panama" left me depressed and wanting a shower.
Content Description
Language: several profanities; 37 obscenities – Sex: several graphic sexual situations and vulgar sexual comments; one scene takes place in a gay bar as the two male leads, undercover pretend to be homosexuals; that scene features male couples dancing and kissing – Smoking: the handsome lead smokes – Drinking: social drinking; one character is a drunk – Violence: a woman is brutalized by soldiers; a man commits suicide off camera – it's an unsatisfying scene when the body is discovered. His eyelids flutter several times. Silly me, I see eyelids flutter and I think, hey this guy ain't dead!
Info
Company:
Columbia Tri-Star Pictures
Reviewer:
Phil Boatwright