Pokemon 3: The Movie
Theatrical Release:
April 6, 2001
DVD Release:
August 21, 2001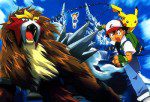 Synopsis
The third big-screen installment in the infinitely popular "Pokemon" mythology is really two stories in one. The feature-length adventure, "Spell of the Unown," is accompanied by a bonus 22-minute short, "Pikachu and Pichu," starring the much-loved Pikachu and the mischievous Pichu brothers as they have misadventures in the big city.
In the feature, the Unown, 26 mystifying and elusive cryptic entities shaped like letters of the alphabet have the power to bring human thoughts and dreams into reality. They create a challenge for Ash, as he and other Pokemon must rescue the young orphan Molly from the mystical forces that threaten to transform her life into a dreamworld prison. At the same time, Ash must also struggle to bring his own mother back from the realm of the Unown before she is lost forever and he becomes an orphan himself.
Dove Review
Okay, so us single guys don't get it. I prefer "Top Cat." But little ones are entranced by Pokemon. And this newest sequel may be the best yet. With its jazzy score, life lessons about working together and your ability to become anything you want to be, this fast-paced animated children's film from Warner Brothers is not just an exercise in violence. Talking to parents, I found that Pokemon stimulates the imagination of tiny tots and it serves to give the family something to discuss. Discuss? That's right.
I attended the screening with a friend of mine, also a reviewer, and his two boys, ages five and six. He told me that there are games, posters, cards, video games and, of course, a television series. My friend and his wife once bet that they knew the names of more Pokemon than the other. She knew 120 characters. He knew 121. "We're sick, aren't we?" he asked me. "No, you're parents." I responded. "Good parents."
If you think the constant battling is too aggressive, you might want to have your kids pass on this action cartoon. But our group found it fast paced, skillfully drawn, and with an involving story. Pokemon still rule.
Info
Reviewer:
Phil Boatwright