Josie and the Pussycats
Theatrical Release:
April 11, 2001
DVD Release:
February 7, 2002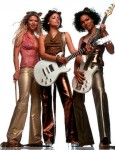 Synopsis
The latest fashion trends, designer labels and status symbols mean nothing to Josie (Rachael Leigh Cook), Melody (Tara Reid) and Val (Rosario Dawson). They are more interested in creating their own home-grown rocker chic fashions and singing their own kind of rock music from their garage, while dreaming that one day they will make it big. When they are "discovered" by band manager Wyatt (Alan Cumming), who instantly delivers a recording contract with Mega Records, it looks as if Josie and the Pussycats are on their way to the top. Before long, the girls have the number one single in the country, but they soon begin to suspect foul play. They discover that their new-found fame is really part of a diabolical plan to brainwash the youth of America by sneaking subliminal messages through the Pussycats' first album. Realizing they are pawns in an evil attempt by the record label's maniacal CEO (Parker Posey), the girls vow to clear their names.
Dove Review
Sometimes I'm surprised by a film that I did not expect much from. I actually had a good time with "Josie and the Pussycats." They made me laugh – and without any flatulence jokes! The opening sequence is perfect satire as it parodies the lifestyle of rock musicians. Keeping in mind that most of the humor and situations are aimed at a pre-teen market, I was pleased to find that the lead ladies were more about doing the right thing than extolling girl power. There's no heavy message in this comic adventure, other than friendship being more important than financial gain. It's just family-friendly fluff. While the Pussycats are this year's Spice Girls, and although they do show a lot of flat tummies, they are decent young role models, unwilling to sacrifice their sense of right and wrong for fame and fortune.
Info
Company:
Universal Pictures
Writer:
Deborah Kaplan and Harry Elfont
Director:
Deborah Kaplan and Harry Elfont
Reviewer:
Phil Boatwright