Kingdom Come
Theatrical Release:
April 11, 2001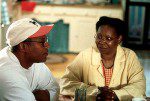 Synopsis
On a hot summer day in the town of Lula, family patriarch Woodrow "Bud" Slocumb keels over from a stroke. While his wife Raynelle (Whoopi Goldberg) makes arrangements, the family gathers to pay last respects. Among them is Ray Bud Slocumb (LL Cool J) who never got along with his father and hates funerals, and his wife Lucille (Vivica A. Fox) who keeps miscarrying and is trying to have a baby. The broke and out of work brother, Junior (Anthony Anderson) along with his wife, Charisse (Jsada Pinkett Smith), Marguerite (Loretta Devine), Woodrow's scripture-spouting sister who's upset with the way her adult son, Royce (Darius McCrary) is living his life. And a wealthy relative (Toni Braxton) also arrives on the scene. As Reverend Hooker (Cedric the Entertainer) consoles the family, they all reveal their differing opinions and family squabbles.
Dove Review
THE GOOD:…The story has it's touching and bright moments like when Royce stands up and recites a Bible scripture for the funeral, or when the brothers put their differences aside and come together and then there's Whoopi who gets to be Whoopi– I miss her. THE NOT-SO-GOOD:…Overall it seemed like a lot of arguing, fighting and drama to deal with on top of a funeral. Tense family moments related to strained marriages, the death of a family patriarch, miscarriage, and issues about smoking and drinking (one apparently having an alcoholism problem and another having one in the past) and jealousy of one another. The tense relationship issues tried to be funny but for the most part, family feuds just aren't funny. There are African-American issues that will appeal to an audience who culturally understands and wants to explore them. There were just too many extremes that kept the story from being taken seriously.
Content Description
Offensive language: Several mild obscenities, some religious profanities, and several insults. Sexual situations: A woman in a cleavage revealing top jumps on a man and pushes him on a bed and they begin to kiss. Sexual dialogue about an affair Violence: A man dies of a stroke while at the kitchen table. A husband puts a gun to the mother's head in front of the children but doesn't shoot. A man punches another man in the gut. A drunken woman climbs into a casket (with a corpse in it) but is stopped. A woman throws a drink in a man's face. A man is shown sitting on a toilet. Several instances of flatulence. Parental advisory: There are a couple of scenes that are disturbing for kids to see so parents, keep your kids away from this one.
Info
Company:
Fox Searchlight Pictures
Writer:
David Dean Botrell and Jessie Jones