Driven
Theatrical Release:
April 27, 2001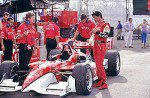 Synopsis
When rookie driver Jimmy Bly (Kip Pardue) gets overwhelmed with success and begins to falter winning races, owner Carl Henry (Burt Reynolds) asks former has-been driver Joe Tanto (Sylvester Stallone) to step in and coach him to the winners circle. Jimmy's rival is Beau Brandenburg (Til Schweiger) the world champion who dumps his girlfriend Sophia (Estella Warren) because she's a "distraction" and ends up losing her to his rival Jimmy. Meanwhile, when Carl puts Joe back into the circuit, it bumps another driver, Memo Moreno (Cristian Del La Fuente) off, and that angers his wife Cathy (Gina Gershon) who happens to be Joe's ex-wife. She tries to pay Joe back by ruining his relationship with a female journalist Luc Jones (Stacy Edwards) following the circuit.
Dove Review
THE GOOD:…. If you want a fast-paced, adrenaline rush, with a loud, music-driven story that puts the audience in the driver's seat to experience the exhilarating, realistic world of CART racing with action packed thrills from the opening scene to the last, go see this movie! Renny Harlin's unique camera angles, creative shots, 3-dimensional views, name-brand sponsored, colorful sets, use real races and drivers, making this a realistic racing movie enthusiasts will appreciate. Every male 13 and up will enjoy the speed factor and the female audience (young and old) will enjoy watching the male drivers wrestle with their need for speed and an important woman in their life. The story centers on four drivers and is about second chances for most of the characters – chances for success, fame, love, forgiveness being a champion off the track as well as on it. What works is a cast of varied ages and nationalities, with real professional racecar drivers from around the world. With the obvious help of plastic surgery, Reynolds and Stallone can still hold their own on the big screen and carry the major roles with ease. Schweiger gets to play a jerk, De La Fuente is the most likable character and besides being gorgeous, he has what it takes to be the next leading man in Hollywood, Gershon is the most unlikeable, witchy female role and Warren is a model-turned-actress who gets to do what she did in real life, a synchronized swim number. I have to admit I have a need for speed and would love to sit behind a race car wheel, so although I found great fault with the script, I enjoyed every minute of the speedway action (however the best race is one that takes place unofficially through the streets of Chicago.) But I probably enjoyed it more, because my teenage son kept whispering "mom this is a good movie" all the way through and claims he wants to go see it "a couple of times" with his friends. These days, that's the best endorsement a movie can get. THE NOT SO GOOD:… Stallone wrote the script and although I'm sure there was originally more to it, it's obvious much of it got left on the cutting room floor in favor of more action-packed scenes. How do I know this? Because when I read my press kit that explained who and what the characters are, and why they do and go through what they do, I was amazed. Half of it is never shown on screen. What little character development you do get, comes in dialogue condensed to bullet points, leaving an audience who appreciates a good story with strong characters, starved for the particulars. This movie has plenty of loud music, fast cars, an enjoyable cast of characters, incredible camera angles, death-defying crash scenes, and a happy ending.
Content Description
Offensive language: I counted two religious profanities, both uttered by Reynolds. Sexual situations: Lots of crowd shots of "sexy" women in hot pants but thankfully, that's it. Violence: Plenty of car crashes but no dead bodies.
Info
Producer:
Elie Samaha
, Renny Harlin and Sylvester Stallone