Shrek
Theatrical Release:
May 18, 2001
DVD Release:
October 21, 2001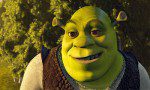 Synopsis
Once upon a time in a far-away swamp, there lived an ornery ogre named Shrek (Mike Myers) whose precious solitude is suddenly shattered by an invasion of annoying fairy-tale characters. There are blind mice in his food, a big, bad wolf in his bed, three little homeless pigs and more, all banished from their kingdom by the evil Lord Farquaad (John Lithgow). Determined to save their home – not to mention his own – Shrek cuts a deal with Farquaad and sets out to rescue the beautiful Princess Fiona (Cameron Diaz) to be Farquaad's bride. Accompanying him on his mission is a wisecracking donkey (Eddie Murphy) who will do anything for Shrek — except shut up. Rescuing the princess from a fire-breathing dragon may prove the least of their problems when the deep, dark secret she has been keeping is revealed.
Dove Review
"Shrek" has some meaningful messages such as looking on the inside of a person and not the outside. It also shows how forgiveness is necessary. However, the viewer should know there is some toilet humor in it. In fact, not far into the movie we meet the ogre Shrek, who flushes a toilet before stepping outside. He likes to eat eye balls and burp but, remember, he is an ogre after all. We get to meet some famous fairy tale characters such as the Big Bad Wolf and Snow White, and the Gingerbread Man.
The film has some humorous moments and great music and a mystery surrounding the princess. Just be aware that Shrek also uses his ear wax for candles and enjoys a meal of fried rats. Overall, it is done in good fun and kids twelve and above will love it. Maybe their parents will too.
Content Description
Violence:
Some fighting; the Gingerbread Man's arms are pulled off and he is placed in milk as a means of torture; dragon eats king.
Info
Director:
Andrew Adamson and Victoria Jensen
Reviewer:
Edwin L. Carpenter