Angel Eyes
Theatrical Release:
May 18, 2001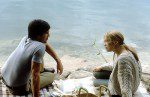 Synopsis
While pursuing an armed criminal who just opened fire on her fellow Chicago Police officers, Sharon Pogue (Jennifer Lopez) nearly becomes the victim until a mysterious stranger named Catch (James Caviezel) appears and saves her life. As Sharon gets to know this man of mystery, the two fall in love as she turns to him for help in dealing with her family's abusive past. She also discovers the unusual truth about Catch and realizes she has touched his life before.
Dove Review
"J-Lo" proves she's more than just a pretty face or voice, in this romance/drama that explores unusual and heavy themes. Lopez handles the drama well but the script goes in too many directions to let her really run with the character. She and Caviezel have great chemistry together despite the fact that he plays a weird character.
There are almost too many heavy issues and themes at work in this story. Not only is there a story explored about Sharon's family and the spousal abuse her father committed against her mother that she reported and was subsequently alienated for, but issues about death and dealing with the tragic loss of a wife and child. An abundance of bad language and police violence is shown, as well as one sexual situation, making this movie too adult for younger fans of Lopez. My pet peeve is seeing a microphone dangling in the shot (these days there's no excuse for it) and this one has it three times.
Info
Producer:
Mark Canton and Elie Samaha