The Musketeer
Theatrical Release:
September 7, 2001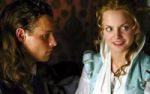 Synopsis
Best for: Mature pre-teens to adults.
What it's about: In 17th century France Cardinal Richelieu (Stephen Rea) schemes to gain power from the King and Queen (Catherine Deneuve) by using Febre (Tim Roth) as his corrupt enforcer. D'Artagnan (Justin Chambers) is a wanna-be musketeer who's parents were killed in front of him when he was a boy, has been raised by his guardian Planchet (Jean-Pierre Castaldi) and searches for the man who killed his parents. He meets Francesca (Mena Suvari) a chambermaid who introduces him to the Queen who needs his help. Meanwhile the rest of the Musketeers are disheartened by the turn of events and Aramis (Nick Moran), Porthos (Steve Speirs) and Athos (Jan Gregor Kremp) look to D'Artagnan for help.
Dove Review
The good: This is a great popcorn movie that older kids to teens can enjoy along with adults. Even though the Musketeers has been done before, this one adds a unique touch by adding the incredible choreographed fight scenes from Xin Xin Xiong. This is an interesting tribute in that it combines the modern day martial arts with the old western style of fighting and it works for what it tries to be. Although the script lacks in character development and the story could have been better, it still delivers an action packed adventure mature kids to adults can enjoy. Artistic license has definitely been taken with novelist Alexandre Dumas' original literary work, it's still an enjoyable romp that leaves an opening for a sequel. The not-so-good: D'Artagnan has a quest to avenge his parents' deaths and pursues Febre until he gets even. Febre is an evil character who's verbally and physically abusive to a woman and child as well as several men.
Info
Company:
Universal Pictures
Writer:
Alexandre Dumas pere' and Gene Quintano