Extreme Days
Theatrical Release:
September 28, 2001
DVD Release:
January 29, 2002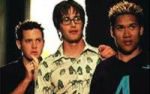 Synopsis
What it's about: A group of lifelong college-age friends – Brian (Ryan Browning), Corey (Dante Basco), Will (AJ Buckley) and Matt (Derek Hamilton) – take a summer road-trip in their Joyota (part Jeep, part Toyota) that will include surfing, skating and snowboarding up the West coast. Along the way they get word that Corey's grandfather has died and left him money and a car, so the group head for Seattle to claim his inheritance. Along the way they meet Matt's cousin Jessie (Cassidy Rae) who joins the group on their crazy journey up the coast. When Brian gets a crush on Jessie and tries the moves that usually work on girls, he quickly learns that Jessie has a unique faith and a set of standards that make her different from anyone he's ever dated before.
Dove Review
The theme song and slogan to this movie is "We're Living in Extreme Days". That expression is more accurate and eerily appropriate than ever before, which is exactly why this fun-filled, extreme sports story that carries subtle messages about appreciating life, friendships, a faith in God and just plain having fun, is relevant to the youth culture of today.
In light of recent tragic events, our kids and teens could use some light-hearted, youth-friendly entertainment that will make them laugh, and this novel approach to a road-trip movie directed by first-timer Eric Hannah is just the trick! It not only includes incredible footage of extreme sports (surfing, snowboarding, skateboarding, motorcross), but a couple of cool paint-ball wars, zany teen antics, and humorous dialogue and behavior that girls and guys can appreciate (except for maybe the flatulent war that takes place with the guys and lighters in a dark room). My 15 year-old enjoyed every minute of it, especially the professional extreme sports footage and the loud but very cool soundtrack that gives an energetic boost to the story.
The story is told with jerky camera movies, goofy behavior, a loud soundtrack, and moral themes subtly woven into the story, with realistic issues and characters that all ages can relate to. I thoroughly enjoyed this movie and I happen to be proud of the fact that I play a small role as a flight attendant in the last scene. This carefree journey will remind adults of how cherished and fleeting youth is, how much fun road trips can be, and how important it is for the youth of today to value and appreciate the precious gift of the American way of life they live.
Although it's a lighthearted romp, there are a few serious themes about losing a grandfather, falling in love and respecting the life God has given us, but nothing too serious for kids. Parental advisory: This is a movie made strictly for kids and teens to enjoy, laugh at, appreciate and understand, but really cool parents will enjoy it too!
Info
Company:
Providence Entertainment
Writer:
Craig Detweiler and Eric Hannah
Producer:
Cindy Bond and Betsy Chasse II