Zoolander
Theatrical Release:
September 28, 2001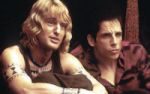 Synopsis
Based on a sketch called Derek Zoolander, Male Model that Stiller did at the 1996 VH1 Fashion Awards show. The movie is a spoof of the shallow, self-obsessed, model-worshipping culture, centered on Zoolander, the CEO of a modeling school.
Dove Review
"Zoolander" is coming out at a time when we as a nation are readjusting our priorities. Today, decadent obsessions like fashions, frills and other self-absorbing activities are considered trivial and meaningless when compared with life, liberty and the pursuit of happiness. In light of the recent terrorist acts in New York City, Washington DC and the fields of Pennsylvania, Zoolander is more than just a funny film, it is a very unlikely movie with a very relevant message as we follow Derek Zoolander, male model through various stages of reflection in his own life. …. Derek's motto's early in the story are: "Triviality is beauty" and "Models help people dress interestingly and wear their hair right." Then, as Derek looses his fame, he begins to transform his thinking into, "There's more to life than being really really good looking." Finally our hero realizes his true destiny and launches the Center for Kids Who Want To Read Good and Do Other Stuff Really Good, Too. ….. Ben Stiller can be both brilliant and bad – here he is really really funny. This is a family film in the sense that most of the Stiller family got acting jobs. Ben's famous parents, Jerry Stiller and Ann Mira have roles as does his lovely wife, Christine Taylor. ….. Will Farrell of SNL fame, plays Mugatu, an over-the-top fashion designer with evil intentions. There are also cameo appearances by at least 15 well-known celebrities …. This movie has some graphic sexual overtones which approach the gross-out level of Stiller's big hit, "Something About Mary". There are also plenty of profanities and obscenities salted throughout the film which makes it a tasteless loser according to Dove's Family-Approved standards.
Content Description
Language: plenty of obscenities (ass, S-word - 11) and profanities (G.D. - 3; for Christ's sake - 6) and several words for male genitals. Nudity; none. but several suggestive outfits on both men and women. Sex: an orgy with no nudity. Drugs and alcohol: several references to getting high and several scenes of drugs and a drugged herbal tea being ingested.
Info
Writer:
Drake Sather and Ben Stiller