Max Keebles Big Move
Theatrical Release:
October 5, 2001
DVD Release:
June 18, 2002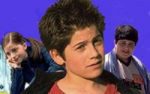 Synopsis
On his first day at Curtis Junior High School, Max Keeble (Alex D. Linz) is targeted by school bullies, which also earns Max the attention of dictator-like Principal Jindraike (Larry Miller). When Max learns that his family is moving, he sees it as a chance to get even with the bullies in his life. Although he gets his revenge, leaving means his friends, Megan (Zena Grey) and Robe (Josh Peck), will bear the repercussions of Max's acts. But Max gets even more worried when the family move is canceled.
Dove Review
Younger audiences will enjoy the slapstick comedy as Max works his way out of the predicament and learns some lessons about friendship along the way. Good messages abound, but parents may worry about such behaviors as sneaking into school buildings, sabotaging business trucks and starting food fights in the school cafeteria. However, Max learns the true meaning of friendship and the rewards of helping others, which makes "Max Keeble's Big Move" a step in the right direction.
Info
Reviewer:
Movie Morality Ministries