Riding In Cars With Boys
Theatrical Release:
October 19, 2001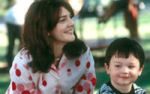 Synopsis
This autobiographical story by Beverly Donofrio (Drew Barrymore) paints a realistic picture of the consequences of teenage sex. When 15-year-old Bev becomes pregnant, dreams of a college scholarship fade into harsh realities of dirty diapers and a drug-addicted husband (Steve Zahn). RIDING IN CARS WITH BOYS has many funny moments as Bev vacillates between an immature, self-centered young mother and a woman determined to fulfill her dream.
Dove Review
Brutal honesty about the author's faults and strengths includes the suffering of Bev's bright, sensitive son Jason (played by Adam Garcia as a 20-year-old). When he's six, his beloved dad walks out, and his mother's ambition leaves little time for Jason. Her close friend Fay (Brittany Murphy) also becomes pregnant at age 15, marries and divorces. The two experiment with sex and liquor in high school, and as young mothers smoke pot and pop pills. Ray's tragic drug addiction robs him of a family he truly loves. Teenagers drinking and sexual antics provide some of the film's humor even though the consequences are not funny. There is no nudity and the teenage sex is implied by motions and noises. Foul language includes four s-words and a finger gesture by a 6-year-old boy.
Info
Company:
Columbia Tri-Star Pictures
Reviewer:
Movie Morality Ministries - Mary Draughon