Cherub Wings: Oops! Sorry!
Theatrical Release:
October 31, 2001
DVD Release:
October 31, 2001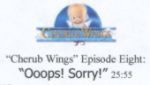 Synopsis
In this episode the cherubs demonstrate how a boy becomes impatient with his little brother, but decides to play with him anyway, to show his love for his brother.
Dove Review
Two friends fight but then forgive each other. This video shows us that we can all feel better when we forgive someone. It encourages us to forgive someone who has hurt us because holding a grudge hurts us and makes us unhappy. If God can forgive us, we should all be patient and forgiving too. Everyone makes mistakes and everyone needs forgiveness and to forgive! Join Cherub and his friend, Chubby, in this funny new adventure from the "Cherub Wings" series as they learn the true meaning of Jesus' instructions to forgive from the heart.