Not Another Teen Movie
Theatrical Release:
December 14, 2001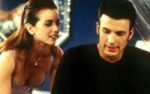 Synopsis
In this crude spoof of popular teen movies, conceited, arrogant Jake Wyler (Chris Evans), the football team captain, bets he can make the homeliest girl in high school, Janey Briggs (Chyler Leigh), queen of the prom. Making fun of other teen movies, NOT ANOTHER TEEN MOVIE is a series of disgusting, graphic sexual incidents.
Dove Review
In the opening scene, Janey caresses a tool for self-gratification in her bedroom. After Jake's sister Catherine (Mia Kirshner) tries unsuccessfully to seduce her own brother, she teaches aging undercover reporter "never-been-kissed" Sadie (Beverly Polcyn), how to kiss in a nauseating scene. Trying to win Janey's affection, Jake goes into the kitchen and comes back wearing only strategically placed mounds of whipped cream. A foreign exchange student (Cerina Vincent) sits nude from the waist up in the principal's office and later appears nude at a party, implying that she never wears clothes. A largely ignored couple, in a crowded school hall, are shown making graphic sex motions and revealing the girl's bare backside. Mixed with the teenagers' sexual obsessions is the unrelenting cruelty of a sadistic football coach who forces a player with blood streaming out his ears to stay in the game. The coach screams at least 17 GDs during practice and 36 obscenities further litter the dialogue. Crude bathroom humor includes a commode exploding, sending excrement through the ceiling and into a classroom. Featuring scenes that belong in a porn video, NOT ANOTHER TEEN MOVIE portrays teenagers as stupid, immoral, and perverted. Avoid it.