Lord of the Rings: The Fellowship of the Ring
Theatrical Release:
December 19, 2001
DVD Release:
August 6, 2002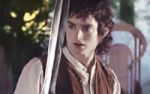 Synopsis
J.R.R. Tolkien's fantasy world of Middle Earth comes to life in the first of three films telling the adventurous tale of one small group's journey to turn back the overwhelming tide of evil threatening the world. Fans and newcomers to the fiction are given a brief introduction to the One Ring, its making, its evil power and its discovery by the hobbit Bilbo Baggins (Ian Holm). Bilbo disappears, leaving the ring to his nephew, young Frodo Baggins (Elijah Wood). Bilbo's friend, the wizard Gandalf (Ian McKellen), discovers the true secret of the ring and starts Frodo on his eventful journey to destroy the evil-filled charm. The fellowship is forged as Frodo is helped on his journey by three hobbit companions, Gandalf and representatives of the elves, dwarves and men. But the spirit of the ring's evil maker seeks its power, to once more rule the earth. Despite its three-hour length, the visually stunning film and enthralling adventure will capture audiences with its tale of bravery and friendship.
Dove Review
"The Fellowship of the Ring" is an engaging and excellently-directed film by Peter Jackson. He brings the spirit of Tolkien's book to life. This film and in fact the entire trilogy is a triumphant concoction of excellent direction, writing, acting, and music. The sets and locations are fantastic and a pleasure to view.
It is in the violence content that the movie crosses our Dove acceptable line of a two rating. We have to rate the violence at a level four. This is the only area that crosses over the acceptable level and we regret not being able to award this film our Dove Family-Approved Seal, as it is a near-miss. Although the violence is fantasy violence, there are still stabbings and battles and the cutting off of an orc's head! Hopefully an edited TV version will allow viewers ages twelve and above to watch this fine story.
Info
Company:
New Line/Fine Line
Writer:
J.R.R. Tolkien and Fran Walsh and Philippa Boyens and Peter Jackson
Reviewer:
Edwin L. Carpenter