Cherub Wings: And it was So!
Theatrical Release:
January 28, 2002
DVD Release:
January 28, 2002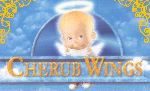 Synopsis
From the new "Cherub Wings" series, here is a video that kids will love and want to see over and over, while at the same time learning basic Biblical teachings. A rousing space-chase in cherub chariots topple Cherub and Chubby into an awesome awareness of God's mighty power! From asteroids in outer space to the marvels of a baby's first word, this program highlights the infinite and awesome power of God and shows us the way we too can benefit from His daily presence in our lives!
Dove Review
Cherub and Chubby are flying through outer space when they suddenly become aware of God's mighty power in creation. They realize that God created everything, and that everything works perfectly. They look upon God's earthly creations and see His beauty and power in people, animals, plants, etc. The video shows us how Jesus made it possible for a holy God to be with us always. This video continues to show an example of how Jesus can't be with us unless we let Him in. The outer space scenes are lovely and the characters are adorable. The ending scene is very pretty and thought provoking, making us realize how God is with us and just how much He loves us!