Shelbys Secret Treasure
Theatrical Release:
April 19, 2002
DVD Release:
April 19, 2002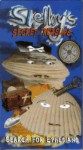 Synopsis
Lost at sea, Shelby returns home to discover that his grandfather is missing. Worse yet, his grandfather's enemy, Captain Clambake, has taken control of the seashell kingdom. Shelby and his companion Coquina discover the final entry in his grandfather's diary — he's been secretly burying treasures that Captain Clambake must never find. The evil Captain Clambake is no match for Shelby once he's armed with the secret weapon buried in the first chest. But can Shelby find the treasure before the captain's deceptive thoughts and schemes enslave him?
Dove Review
This video attempts to teach us that we should hide the word in our hearts. Evil Captain Clambake uses "mind control" on his victims which puts them into a zombie-like trance. When Shelby puts on the full armor of God, he is safe from the mind control.