God Loves Me!: A Celebration of Infancy
Theatrical Release:
May 8, 2002
DVD Release:
June 1, 2002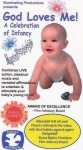 Synopsis
This 30-minute video provides a stimulating environment for kids ages 1 – 36 months. It incorporates new sights, sounds and live actions, mostly set to classical music, as it introduces babies and toddlers to God. It is designed to be a tool that helps infants learn spiritual truths the same way they learn other things – through their senses. This concept is based upon the research that an infant's brain is a work-in-progress and that listening to classical music helps form the brain's neurological learning pathways – a phenomenon known as the "Mozart Effect."
If listening to classical music helps children later learn math, science and languages quicker and easier, why not also introduce them to God and His love for them?
This video features classical music from Mozart, Beethoven, Bach, Chopin, Grieg, Rossini, Strauss, Bizet and others. It also presents various non-classical music including the late Nicoltette Larson's beloved song "Oh Bear" from her "Sleep, Baby, Sleep" CD.
Dove Review
This film is comprised of various baby scenes – from babies eating, babies playing with toys, dancing, dressing up, etc. These scenes are accompanied with music, primarily classical and words to reinforce different ideas, such as the idea that God loves you. The idea is for a parent to watch this movie with their baby and or small toddler and repeat the words to their child. They refer to this technique as "The Mozart Effect."
This film celebrates babies, a miracle from God. It also reinforces various ideas to very, very young children that God loves them, God gave us music, etc.