My Best English Volume 1: Alphabet
Theatrical Release:
May 7, 2002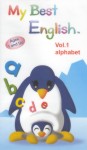 Synopsis
"My Best English" is a series of educational videos for young children. It was created as an effective and entertaining teaching aid to help facilitate language learning while promoting a positive environment for the child.
This video teaches the complete alphabet. Each letter starts with its letter sound(s) and is followed by beautiful live images of various familiar animals and objects that start with that letter. Spelling instruction of both upper and lower-case letters concludes each letter section. Primary school teachers narrate this video in an easy-to-follow format so that the child can interact verbally by repeating what is said. Several fun skits featuring 11-year-old Scout Taylor-Compton and the little mascot, "Guin the Penguin," accentuate the video. Three songs and "Animal Talk" sections keep attracting young children's attention. Carefully selected classical music masterpieces are played in the background to enhance the learning environment.
Dove Review
This is a very well done learning video for kids. It reminded me of some Sesame alphabet lessons, but with more music. I think kids will enjoy learning the alphabet using this video. It covers the letters of the alphabet and their sounds in a fun way that will allow young children to learn them while having fun. I wish I had the "My Best English" series when my kids were young!
Info
Company:
Image Factory, Inc.