Just a Dream
Theatrical Release:
August 25, 2002
DVD Release:
August 25, 2002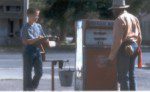 Synopsis
We all have one childhood summer we can never forget during which our friendships are tested and lives are changed forever. Set in 1960 in a dusty Dayton, Nevada, "Just a Dream," is the poignant story of a 12-year-old boy, Henry Sturbuck (Jeremy Sumpter), and his unlikely friendship with the town mechanic, J.M. (Carl Lumbly). Raised by the conservative Dr. and Mrs. Maureen Sturbuck (Robby Benson and Ally Sheedy), young Henry looks at the world with wonderfully innocent eyes, a perception that is tested by events which begin when Dr. Sturbuck's car breaks down on the way to Henry's first summer job.
Dove Review
J.M. Hoagland, the town's mechanic and only African American, picks up Henry and his father. Curious yet shy, Henry's observant nature is fascinated by J.M. and the picture of Marilyn Monroe stuck on J.M.'s dashboard. Having never been to a movie, Henry doesn't know who she is, only that she is beautiful. He questions J.M. about her, thinking she is J.M.'s girlfriend, but is cut off by his father's pompous preaching on the evils of temptation. The doctor's sermon falls on uninterested ears, however, as Henry's non-judgmental nature warms a smile on J.M's face and in his heart.
At the saloon where he works, Henry meets the feisty owner Cindy (Amy Madigan), the cryptic Native American bartender, Cecil Running Bear (Rodney A. Grant), and Lynette (Julie-Ann Liechty), the flouncy barmaid. For Henry, the Crest Saloon is better than the circus. Cindy tries to teach Henry the need for responsibility and hard work. From Cecil, he learns some new and interesting words, and J.M. introduces him to the world of imagination. Lynette's lazy ways and skewed view of the world are a fascination to Henry, and luckily, J.M. is there to lend some down-home wisdom.
One day, J.M. talks to Henry about the wonders of the drive-in movie theater. Henry, feeling his newfound maturity, convinces his fearful, conservative mother to allow him to go to the drive-in with his friend J.M. News of a major motion picture with Marilyn Monroe is coming to town, and Henry wants to get J.M. and Marilyn together. The rest will blow you away.
Info
Company:
Showtime Networks, Inc.