Joseph: The Man Closest to Christ
Theatrical Release:
July 23, 2002
DVD Release:
July 23, 2002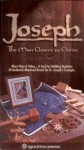 Synopsis
Joseph was a simple man, a carpenter, who was chosen by God to be the husband of Mary, the Mother of Jesus Christ. He realized that he was not the father of Jesus, but accepted his role in life.
Dove Review
None of Joseph's words are recorded in the Scriptures, but the stories told about him therein, describe him as a just man, a man of uncompromised obedience, a prayerful man, an exemplary worker, and truly a model of authentic manhood. In other words, he is the perfect role-model for husbands and fathers.
This video explores all aspects of St. Joseph – the historical man, his response to God's call, and the many ways in which he reflects the nature of God. It includes interviews with a Catholic Evangelist, a Catholic Nun and a professor at the Franciscan University of Steubenville, which provide more personalized comments and points of view.