The Mary Mother of God
Theatrical Release:
July 23, 2002
DVD Release:
July 23, 2002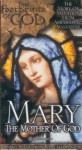 Synopsis
Mary was a humble girl from an ordinary Jewish family, but her life took an extraordinary turn when she agreed to become the mother of Jesus. She came to be exalted as the Daughter of Zion, the Mother of God, and the Queen of Heaven.
Dove Review
In this video, we follow Mary's extraordinary journey on location in Israel, Turkey and Greece with Catholic author and speaker Stephen Ray as our guide. It clearly explains Mary's Immaculate Conception; her relationship with her son, Jesus; her role of intercessor; her Assumption into Heaven and more. This is a travel documentary, biography, Bible study, apologetics course and Church history study.