The Master of Disguise
Theatrical Release:
August 2, 2002
DVD Release:
January 28, 2003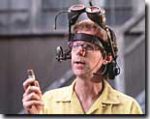 Synopsis
Fabbrizio Disguisey (James Brolin), descendent of a long line of master mimics who use their talents for the betterment of mankind, wants to keep his son Pistachio (Dana Carvey) out of the dangerous work. But when Fabbrizio is kidnapped and forced to use his talents for the evil Devlin Bowman (Brent Spiner), his grandfather (Harold Gould) introduces Pistachio to his family destiny, to become a Master of Disguise. After teaching Pistachio the secrets of "Energico," the special force that allows the family to become anyone or anything else, Grandfather hires single mother Jennifer (Jennifer Esposito) to be Pistachio's assistant. But can the shy, clumsy Pistachio gain the confidence needed to rescue his parents and earn his title as Master of Disguise? Carvey displays his own talent for mimicry in this silly adventure that will have young and old alike laughing in the aisles, all the way through the credit outtakes.
Dove Review
This truly "family" show draws humor from references to old movies, as well as current pop figures like Jessica Simpson, Minnesota's Governor Jesse Ventura and Olympic speedster Michael Johnson that will give adults a chuckle. Youngsters will no doubt find humor in the flatulence sounds that interrupt Bowman's evil laughter. A few mild slang terms for posterior are used, particularly directed toward women, which some will find derogatory. Pistachio and his grandfather indicate a penchant for women with larger posteriors and seem to disparage Jennifer's "lack of substance." A man makes a face after stepping on a cow dropping. But the dropping is seen as part of one of Pistachio's disguises. Hopefully, a suggestive comment about party appetizers will go over the head of most youngsters.
Some parents may be wary of the Masonic "Eye of God" pyramid symbol along with zodiac symbols that adorn Disguisey artifacts but the symbols are never referenced. However, Grandfather talks about "Energico" being an invisible field that the Disguiseys can tap into and repeating the mantra "become another person" helps channel the energy. But Pistachio prays for a sign to guide him after his parents are kidnapped. The Disguiseys seem to shun deadly violence and, instead, practice slapping opponents to dishearten them. With a warning about some flatulence humor and questionable symbols, "The Master of Disguise" can be enjoyed by ages six and older.