Peter Keeper of the Keys
Theatrical Release:
August 19, 2002
DVD Release:
August 19, 2002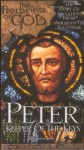 Synopsis
He is called the Rock, the Fisher of Men and Head of the Church. But how did Peter – a rustic fisherman – come to deserve such honor and authority? Join Stephen Ray, best-selling Catholic author and dynamic speaker, on a journey of adventure and discovery. Follow Peter from Galilee to Jerusalem to Rome. Along the trail you'll discover answers about the infallibility of the Pope, papal succession, the truth of Catholic teaching and much more! And you'll see why Jesus chose this simple fisherman and his papal successors to be the Keepers of the Keys and Shepherds of the Church. All in a fast-paced, entertaining format that combines the best elements of a travel documentary, a biography, a Bible study, an apologetics course and a Church history study!
Dove Review
This is a wonderful documentary type video that has many wonderful qualities. It is very interesting and informative and you go to the places where Peter spent his time building the Church. Stephen Ray paints a very convincing picture of Peter and why Jesus selected him as the Rock on which He will build His church. The photography is wonderful. This is a fantastic journey back in time to the places Peter came from and visited.
Info
Company:
St. Joseph Productions