Charms for the Easy Life
Theatrical Release:
September 18, 2002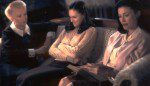 Synopsis
Based on Kaye Gibbons' best selling novel of the same title, "Charms for the Easy Life" depicts three generations of Southern women who defy the traditional gender roles of the early 20th century. Set during the Depression and World War II, it is a touching tale of female bonding and solidarity.
Dove Review
The main character, Charlie Kate, is a strong-minded young midwife and homeopath who rescues a man who is about to be lynched. To thank her for saving his life, he presents her with a charm that is supposed to bring an easy life, a tattered rabbit's foot. Charlie Kate eventually gives it to her daughter and then to her granddaughter at certain key points in their lives because of its importance as a talisman. While Charlie Kate's life is anything but easy, it is charmed in it's own way.
The character Charlie Kate, played brilliantly by Gena Rowlands, is an amazingly wise, caring, loving person. She reaches out to, and cares for, many people, both as one who practices her own type of medicine, and as someone who is concerned about the townspeople regardless of their situation.
She is loved and respected by most people who are aware of her goodness. She encounters many problems in her life, but unfailingly maintains her sense of justice, wisdom and morality. Her granddaughter, who has a very close loving relationship with Charlie Kate, follows in her footsteps,