Left Behind 2: Tribulation Force
Theatrical Release:
October 1, 2002
DVD Release:
October 29, 2002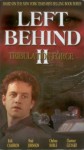 Synopsis
A week after millions of people vanish into thin air, a desperate world turns to United Nations President Nicolae Carpathia (Gordon Currie). Basking in the new found adoration and trust of the people, Carpathia seems to have the entire planet at his command. But thousands of miles away, a small group, aware of Carpathia's true and sinister identity, is trying desperately to share their knowledge with anyone who will listen. Calling themselves the Tribulation Force, world-renowned television journalist Buck Williams (Kirk Cameron), Pastor Bruce Barnes (Clarence Gilyard), airline pilot Rayford Steele (Brad Johnson) and his 20-year-old daughter, Chloe (Janaya Stephens), embark on a dangerous mission to open the eyes of the world to the truth. This film is based on the New York Times best selling novel.
Dove Review
First of all let me say that I am a big fan of the "Left Behind" series and am currently reading book number 10. So, I am thrilled to see the second installment of the "Left Behind" series on video. "Left Behind 2: Tribulation Force" does a good job in keeping with the story of the book. Kirk Cameron has grown as an actor and does a great job in this film as the energetic television reporter Buck Williams. I was particularly captivated by Clarence Gilyard's performance as Pastor Bruce Barnes. He gives a wonderful performance in preaching the gospel to those left behind and is a key player in the formation and launching of the "Tribulation Force." I always liked Clarence in Walker Texas Ranger, but loved him in this film.
Directed by Bill Corcoran ("Hope Island"), "Tribulation Force" has a good flow to it and much better character development than the first film. Anyone who likes the books will enjoy this film adaptation.
Info
Company:
Cloud Ten Pictures
Writer:
Paul Lalonde and John Patus