Due East
Theatrical Release:
October 8, 2002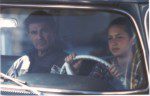 Synopsis
Mary Faith Rapple (Clara Bryant), a bright high school senior, has never been part of the "in crowd." She teaches a night class, cares for her widowed father (Robert Forster) and pretty much keeps to herself. When she meets a young boy, a loner who recently moved to her town, Due East, she feels a sense of belonging and gains an understanding of what it is like to be in love for the first time. Her life changes when the boy is killed in a motorcycle accident and she discovers she is pregnant. Refusing to tell her father who the father of the baby is, her father assumes it is Steve Dugan, a teacher at Mary Faith's night school. Attempting to confront Dugan, he meets Dugan's mother, Nell, and a romance begins.
Becky Purdue, a troubled local woman caught in her own personal crisis, discovers Mary Faith's secret, and, inspired by the teen's courage and belief in doing the right thing, Becky rediscovers her own strength, and becomes Mary Faith's primary source of comfort and support.
Dove Review
Mary Faith refuses to have an abortion despite strong pressure from family members. She demonstrates a lot of maturity, unselfishness and wisdom for someone her age and in her situation. Her friend Becky Purdue, despite her own problems, is able to provide comfort and support when no one else does.
There is one brief scene early in the story showing Mary Faith and the boy in bed together, but no nudity or sexual activity. Also, it is implied that the relationship between her father and Nell is intimate, but there are no scenes or language showing it directly.
Content Description
Sex:
Young man and woman in bed together but no sexual activity is shown; unmarried man and woman have an implied sexual relationship but again nothing is shown.
Info
Company:
Showtime Networks, Inc.
Reviewer:
carol verbrugge