Hermie: A Common Caterpillar
Theatrical Release:
February 15, 2003
DVD Release:
February 15, 2003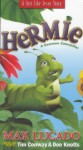 Synopsis
A simple story of profound truth that gently teaches how God loves you just the way you are…and that you are indeed truly special. Hermie may be just another caterpillar, but his wiley style will win your heart. An adorable new character from renowned, best-selling author and pastor Max Lucado, Hermie (and his best friend Wormie) wonder why God, their close friend and creator, chose to make them so common. After all, every other creature they encounter boasts something bold or beautiful that makes it special and unique. Hermie and Wormie wriggle under the weight of comparison, coming up short every time. But then comes the miracle. With an amazing transformation inside and out, Hermie and Wormie both learn the truth behind God's impeccable timing, purpose, and love.
Dove Review
Max and Hermie come on at the beginning of the DVD. They keep asking each other if they think they're special. As the DVD progress, Hermie and Wormie wonder why they can't fly or have spots and stripes like other caterpillars do. They also ask God why they are so plain. God's reply is "I am not finished with you yet." It helps people of all ages realize we are not a finished product yet.
At the end of the DVD Hermie and Wormie find out the special surprise God had in store for them. This DVD is awarded our Dove "Family-Approved" Seal
Info
Starring:
Voices of Tim Conway, Don Knotts and Melissa Disney