Quigley
Theatrical Release:
June 7, 2005
DVD Release:
June 7, 2005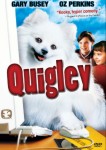 Synopsis
Archie (Gary Busey) is a rich and utterly despicable practical joker. He is one week away from playing a CD-Rom that will change the lives of his trusted manager Dexter (Curtis Armstrong) and other employees forever, when he is suddenly involved in a deadly accident. Archie quickly discovers that instead of entering heaven's pearly gates, he is being sent back to earth to clean up the mess he's created.
Since Archie has an absolute dislike for animals, especially dogs, it is quickly decided he return to earth as a dog. Not any dog, mind you, but a fluffy white Pomeranian named Quigley. Sweeney (Oz Perkins), an "observing" guardian angel, will accompany him. He is the only person who will actually see the real Archie. Everyone else sees Quigley. He's given two very different assignments. One is to retrieve the CD-Rom before it's played and the other is to help his brother Woodward (Christopher Atkins) and his family, whom he hasn't talked to in years. Quigley has much to do and little time to do it. How he accomplishes these assignments as a dog makes for a hysterical adventure of madcap entertainment.
Dove Review
This light-hearted comedy tells the story of a multi-billionaire named Archie (Gary Busey) who made his fortune creating and selling the world's most repulsive video games. Oh, yes! Archie also is know for his hatred of man's best friend. Reminiscent of Frank Capra's "It's a Wonderful Life," "Quigley" follows Archie as he is killed trying to avoid hitting a dog in middle of the highway. Once in "heaven" Archie is forced to confront his despicable life and begs for a second chance to make up for his past sins. Unfortunately for him (but fortunately for the audience), Archie must perform two acts of kindness for his former friends and family members; but, as a dog named Quigley.
If Dove gave out individual awards for the crew, I'd give 5 Doves to the casting director for finding his furry star player. The scene-stealing Pomeranian playing Quigley is a delight to watch as he foils everyone's plans to get rid of him. In the meantime, Archie (Quigley in human form) finds that a dog's life is not all it's cracked up to be. After all, adapting to certain challenges can be distracting; like learning the three-legged dance around fire hydrants and avoiding a maniac dog catcher.
As you would expect from a Dove-approved family comedy, all ends well. And, a last minute twist in the story keeps everything kosher, from a biblical context. The camera work is excellent. The story tempo is somewhat inconsistent, and some scenery and characters are less than believable. But after all, a story about a man-turned-dog is not exactly a reality show, is it? "Quigley" is loaded with slapstick and silly characters chasing and being chased, mixed with prat falls and double takes. It's sure to keep the kids laughing. And, there's a tender storyline that will entertain your more sensitive family members as well.
Info
Company:
Destiny Entertainment