Holes
Theatrical Release:
April 18, 2003
DVD Release:
September 23, 2003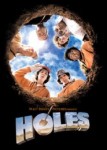 Synopsis
Stanley Yelnats IV (Shia LaBeouf) is falsely accused of stealing Clyde 'Sweet Feet' Livingston (Rick Fox)'s shoe donation to a local orphanage and will either go to jail or Camp Green Lake. Stanley chooses Green Lake, where he is forced to dig large holes in the desert each day, by order of the mysterious Warden (Sigourney Weaver) and her assistants Mr. Sir (Jon Voight) and Mr. Pendanski (Tim Blake Nelson). But what the Warden is really trying to do is find a buried treasure that was cracked murderer Kissin' Kate Barlow (Patricia Arquette)'s fortune long ago. But when Stanley and his friend Zero (Khleo Thomas) escape, things get really bad.
Dove Review
"Holes" is adapted by Louis Sachar from his Newbery Award-winning book. This is the story of someone being in the wrong place at the wrong time. But difficult circumstances become the fodder for character traits like loyalty, trust and sacrifice. These human qualities draw together a dysfunctional bunch of juvenile delinquents into a band of brothers.
The story centers around Stanley Yelnats VI, a typical teenager who lives with a not-so-typical family. He is struck on the head with a pair of tennis shoes that literally fall out of the sky. Suddenly, the cops are on him and arrest Stanley for stealing the shoes. He is sentenced to 18 months at Camp Green Lake. The so-called camp is actually a youth detention center for wayward boys located in the middle of a dried up lake bed in the hot, dry desert. The typical sentence for the "campers" is to dig one 5′ by 5′ hole every day "to build up their character."
The history of Stanley's strange family and a curse that has been handed down through the generations is skillfully depicted through flashbacks into the distant past. The connections between past and present are revealed in a clever sequence of events that keep the audience guessing right up to the end. The production quality, excellent character acting, and a fascinating story help make this a very enjoyable film. This star-studded cast does a great job, especially Jon Voight as the Camp foreman Mr. Sir. His performance is a classic, and a departure from the roles he has portrayed recently.
"Holes" has some rough language in parts and some of the violence will be too strong for young children. Dove rates the family curse elements of this film with a 2 under "Other" because some of the depictions could be construed as spell casting, or sorcery. But, it could also be dismissed as mere superstition. Even though this is a film about kids, Dove has rated it 12+ because of the strong theme, violence and language. Teenagers and adults will dig "Holes."