God Rocks!: A Blast From the Past
Theatrical Release:
April 18, 2003
DVD Release:
April 15, 2003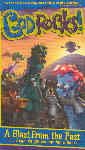 Synopsis
Chip, Gem, Carb, and Splinter form a crack I-team to unearth the solution to the great alien mystery. But the best news comes when Buck – a traveling salesrock looking for the meaning of life – makes his own discovery: the same God who created the universe created him for a purpose. He's a God Rock hero! With new confidence, Buck joins The God Rocks! in an eye-poppin', rockin' presentation of the creation story as he experienced it!
If rocks from Bible times could talk, would they keep silent about the amazing events that they witnessed? No way! That's why Buck and every other God Rock hero has something important to say! With fresh, original music and high-tech animation, "A Blast From the Past" delivers an entertaining spikin' good time you won't want to miss!
Dove Review
This is a fun an exciting animated adventure through the God Rocks and their town and beliefs. The God Rocks love God and everything that he has done. I loved "A Blast from the Past." It was short and sweet and fun to watch. The message was great and the God Rocks made me want to watch and learn more about God and creation.
Info
Company:
Standard Publishing