Final Solution
Theatrical Release:
June 24, 2003
DVD Release:
June 24, 2003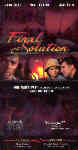 Synopsis
The indoctrination of Gerrit Wolfaardt is complete: his family traditions, history, culture – even his church – have taught him that black South Africans are a cancer in the land. Under the eye of prominent members of the government and military, Gerrit develops a diabolical plan to rid South Africa of its "black danger."
Before his plans can be carried out, he meets two people who will put him on a collision course with his future: Celeste, an open minded university student, and Peter Lekota, a pastor who challenges Gerrit's prejudice. His "final solution" meets its greatest obstacle when Gerrit himself realizes that he is wrong. The persecutor becomes the peacemaker and begins to seek reconciliation between whites and blacks. However, in the turbulent last days of apartheid, there are those who doubt his transformation. One such person is Moses Moremi, whom Gerrit had once violently attacked. In the film's dramatic conclusion, it is Moses who must choose between peace and bloodshed. Based on a true story, this remarkable film features an exceptional international cast, including Tony Award winner John Kani.
Dove Review
This is a powerful and moving film that scrapes beneath the surface of the color issue in a way that has never been done before. There is more than one side to every story, and "Final Solution" gives you the chance to see the story from all different angles. From the rising and falling of Gerrit, the white supremacist, to the life and struggle of Moses, the black African just trying to survive apartheid, this is a movie that shows the startling and gruesome details of the times. "Final Solution" is an amazing movie that everyone, both white and black, should see to understand that we all have struggles that can only be overcome if we come together and give peace a chance.
Info
Company:
Crown Entertainment