Our Town
Theatrical Release:
May 23, 2003
DVD Release:
May 23, 2003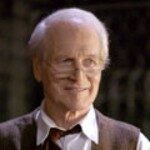 Synopsis
Acclaimed writer Thornton Wilder won the second of three Pulitzer Prizes for his 1938 play "Our Town," a masterpiece of modern drama set in a small, close-knit New Hampshire community called Grovers Corners at the turn of the century. It's a place and time summoned forth by the Stage Manager (Paul Newman), an omniscient observer presenting and commenting upon the lives and loves, hopes and fears, joys and even the deaths of its citizens.
Chief among Grovers Corners' townsfolk is George Gibbs (Ben Fox), a bright young student and baseball star who literally falls in love with the girl next door, pretty Emily Webb (Maggie Lacey), who seems destined to become his soul mate. As plans are made for George and Emily to wed after high school graduation, their families grapple with the more mundane concerns of daily life: George's mother Julie (Jayne Atkinson) frets over her hard-working husband Dr. Franklin Gibbs (Frank Converse) and dreams of a Paris vacation; Emily's father Charles Webb (Jeffery Demunn) edits the local newspaper while his wife Mrytle (Jane Curtin) tends to their home and children. In the meantime, George's sister Rebecca (Kristen Hahn) and Emily's brother Wally (Conor Donovan) follow their own paths to adulthood, while choirmaster Simon Stimson (Stephen Spinella) struggles with a new composition and town gossip Mrs. Soames (Mia Dillon) chats about his alcoholism.
The Stage Manager presides over the nuptials of George and Emily, but fate has other plans in store for the happy couple, whose time together will be cut unexpectedly short. After she and her baby die in childbirth nine years after her wedding to George, Emily finds other town residents in the afterlife, detached spirits that disapprove of her nostalgic fondness for the seemingly mundane details of everyday existence. But as she watches a bereft George grieving for her at the cemetery, and relives the forgotten details of her 12th birthday – gifts from her youthful parents, a milk delivery from Howie Newsome (Jack Robards) – Emily begins to recognize the sweet, ephemeral nature of a life so little appreciated by the living and now lost to her forever.
Dove Review
Take some of the most influential actors and actresses of our time and cast them as townspeople in the play "Our Town," and you get a wonderful presentation that begs to be watched again and again. Acting is hard enough, having to know your marks and cues, but take away most all props and backdrops and you get to see just how talented the actors and actresses in "Our Town" really are. The two hour play is performed masterfully with no props, spectacular timing and a flair that few can master. The actors and actresses hit their mark every time with immaculate precision and play their characters to a "T". This is a must see for anyone who loves theatre.
Info
Company:
Showtime Networks, Inc.
Starring:
Jayne Atkinson
,
John Braden
,
Frank Converse
,
Jane Curtin
,
Jeffrey DeMunn
,
Mia Dillon
,
Ben Fox
,
Maggie Lacey
,
Paul Newman
,
Jake Robards
,
Stephen Spinella