Soldiers Girl
Network Premier:
May 31, 2003
DVD Release:
May 31, 2003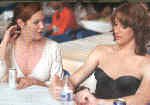 Synopsis
Soldier's Girl is the true story of Barry Winchell, a soldier at Fort Campbell, Kentucky, who in 1999 fell in love with Calpernia Addams, a beautiful transgendered-gendered nightclub performer from Nashville. In the closed, rigid world of the army, their love affair created jealousy and misunderstanding among Barry's fellow soldiers. Rumors spread that Barry was gay. Eventually, on Fourth of July weekend, as Clapernia was winning Miss Tennessee Entertainer of the Year, Barry's lago-like roommate Justin Fisher goaded another soldier into brutally murdering Barry.
Dove Review
Soldier's girl is a tragic story about the life and death of Barry Winchell. As far as movies go, this one is very well put together and produced. The actors all do a great job and make the characters very believable. The movie is very full of emotion, and it comes through in a good way. It shows just how the army can be, and how difficult life there can be. Despite the great acting and powerful story line, Soldier's Girl could not be approved because of the nature of the story line, sex, language, and violence. This film is based on a true story and shows how obscene our society has become. One, that this kind of relationship happens between two males and the other of how hateful and violent people can be when they become aware of these relationships. Parents should be warned of the content of this film.
Content Description
Sex: there are repeated sex scenes between a man and a transgender male. Language: every colorful word and profanity imaginableViolence: there is a lot of fighting between the men in the company, mainly fist fighting. Barry and Justin get into it and Justin beats Barry with a dustpan until he bleeds. One of the boys in the company brutally beats Barry with a baseball bat until he is dead. Blood is splattered everywhere. Drugs: A lot of drinking and getting drunkNudity: Cal's "breasts" are exposed on numerous occasions and in the nightculb, men dressed as women show their bodies scantillyOccultism: none
Info
Company:
Showtime Networks, Inc.
Starring:
TROY GARITY, SHAWN HATOSY,
LEE PACE
,