2 Fast 2 Furious
Theatrical Release:
June 6, 2003
DVD Release:
September 30, 2003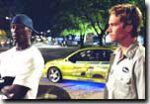 Synopsis
In this Universal Studios sequel, Brian O'Conner (Paul Walker) is an ex-cop who was kicked off the force for ruining one of the FBI's biggest investigations — allowing the leader of a big-rig hijacking operation to go free. Now he has a chance to redeem himself. Federal agents in Miami have been unable to nail Carter Verone (Cole Hauser) who is using his import/export business to cover an international money-laundering ring. The only thing that customs can get on Verone is his tie with illegal street racing. The Feds want to get him for something that will keep him locked up for a long time so they approach O'Conner for help. They want him to go undercover as a "fast driver" employed by Verone, who happens to be looking to hire a couple drivers.
O'Conner agrees to help the Feds but with certain conditions: he wants to choose his own partner and he wants his badge restored. The partner he chooses is his childhood friend, Roman (Tyrese Gibson), who has had some past run-ins with the law, serious enough to send him to prison. Roman agrees to help his friend as long as his police and prison record are wiped clean. Their assignment is to bring down Verone. They think the job might be fairly easy until they realize just how ruthless Verone can be and until they meet Monica (Eva Mendes), another undercover cop who is "bedding" Verone. They aren't sure whether she is really doing her duties as a cop or has joined forces with the enemy. And, to make matters worse, the local police are getting in the way. O'Conner entreats the LA gang of illegal street racers for help.
Dove Review
First, the language is appalling with enough s-words to make anyone cringe. There is a lot of violence, from mild pushing and shoving to gunfire. In many scenes, women are shown in revealing clothing. Alcohol and tobacco usage is prevalent. There is gambling, illegal street racing and a total lack of respect for law enforcement. Don't "race" to see this one. It's not worth it.
Info
Company:
Universal Pictures
Reviewer:
Movie Morality Ministries - Lynn Nusser