Lovely Baby CD Volume 3
Theatrical Release:
July 22, 2003
DVD Release:
July 22, 2003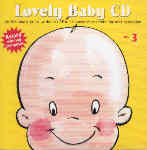 Synopsis
Raymond Lap, composer and creator of the "Lovely Baby" CD series claims: "Creating a better world starts with music at birth." Millions of babies around the world already enjoy his music. The "Lovely Baby" CD series is quickly becoming recognized as an efficient, stimulating and educating way to entertain babies. No other CD's have gone through so many tests and tryouts. Listening to good music with a pallet of styles that are well arranged, will positively stimulate the development of the child's brain.
Dove Review
This is the third entry, containing 10 selections, in the "Lovely Baby" CD series. The CD opens with "My Lovely Mama," with lovely soft music and sweet utterings of a baby's voice saying "ma-ma" over and over again. There's a distinct upbeat cadence on "O.K." which follows with "I Play," and a return to a softer theme on the xylophone and more familiar sounds of baby's toys in the background. The piano takes precedence in the middle of the CD on "For My Mama" and "This One's For You." The CD ends with "I'm Going To Sleep Now," accompanied with soft baby gurgling and gentle music. This is another winner in the series and gets 5 Doves!