Girl of the Limberlost
Theatrical Release:
September 1, 2003
DVD Release:
September 1, 2003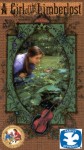 Synopsis
Early in the 1900s, a rural Indiana girl seeks to get an education and follow her dreams in spite of the obstacles that surround her. Elnora Comstock's fascination with nature feeds her desire to get an education, but her widowed mother calls her goal of attending high school a foolish dream. Elnora finds comfort in the intricate world of the Limberlost and her friendship with a wealthy naturalist, Mrs. Porter. When unexpected taxes come due on the farm, Elnora's mother needs help bringing in the harvest. Elnora must give up school to save their home. As Elnora fights to rescue her dreams, she discovers a world of opportunity and learns the truth behind her mother's anger and her own mysterious past.
Dove Review
Feature Films for Families has once again produced a thoughtful, sometimes tearful, but always entertaining winner for general viewing. Elnora is an excellent role model for young women facing life with difficulty and sorrow. Her father died the day she was born, and Elnora becomes the target of her mother's anger. Elnora not only survives in an environment starved of love, but she excels in school and always has a positive attitude in circumstances that would be daunting to a teenager in the 21st century. Elnora's mother finally faces the grief never expressed when she lost her husband, which results in a new love and bonding with her daughter. There are many opportunities for families to discuss themes in this video: hardships/obstacles in life and how we deal with them, anger not expressed appropriately, and how love expressed in simple ways carries resonating messages.
Info
Company:
Feature Films For Families