Brainy Baby Art: Exploring the World of Art
Theatrical Release:
September 9, 2003
DVD Release:
September 9, 2003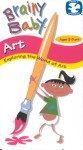 Synopsis
This video will teach your child about colors, textures, mediums and much more. The Brainy Baby Learning Library is the pioneer in infant development videos. It is the first video series that can help stimulate cognitive development. Brainy Baby was created to give your child a jump-start on learning and provide a solid foundation in early education.
Dove Review
There is a nice progression in the teaching format, beginning with primary colors and quickly moving on to secondary colors, followed by shapes and textures. One of the finest aspects is that they've placed some famous French Expressionist paintings in the video, telling us the artist's name, the name of the picture, and calling attention to the colors and textures found in the lovely work. This is good, brain-stimulating viewing for young children.