Christy: Choices of the Heart
Theatrical Release:
October 7, 2003
DVD Release:
October 7, 2003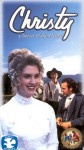 Synopsis
"I'm in love with you," Dr. Nell tells Christy during a ride together in the woods. "I've come back to ask you to marry me." But how can she accept his confession of love, when she's promised to marry David in two weeks? A storm soon begins to rage, driving Christy confused into the wilderness, while the people of Cutter Gap abandon their homes and gather at the mission to escape the rising creek. As the scant homesteads of his parishioners are washed away, David holds onto the hope that Christy will find her way out of the rain and to his side at the altar. Lost in a fever brought on by the storm, Christy struggles to untangle her heart and find the right path to true love.
Dove Review
This is another winner for Feature Films For Families. The Christy stories are timeless and good family viewing. Christy can serve as a role model for young women today. In this story, she's torn between two young men: whom should she marry? This is good viewing, as she deals with her emotions and the elements of the storm. There are many areas for family discussion and I highly recommend another Christy video.
Info
Company:
Feature Films For Families