Kim Possible: A Sitch in Time
Theatrical Release:
March 10, 2004
DVD Release:
March 10, 2004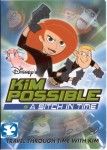 Synopsis
It's Kim Possible's most extreme adventure yet! In her race against time, she travels through the years in her first way-cool, full length movie! Here's the "sitch": When Shego and her evil henchmen capture the all powerful Time Monkey and start monkeying around with time, a visitor from the future – Rufus 3000, a buffed-up, talking descendant of everyone's favorite naked mole rat – alerts Kim to the plan. Kim, along with her faithful sidekick Ron Stoppable and Rufus, must triumph in the present and the past or the future will be history!
Dove Review
I really loved this movie. I got into it. The characters are real and dynamic, and the story line kept me intrigued. When the unstoppable team of Ron and Kim get split apart, things look grim. Kim is at the scene of all the crimes, whereas Ron always shows up after everything is over. As if things aren't bad enough for two best friends split apart, a group of four henchmen (and one henchwoman) scheme to travel through time to take out Ron and Kim. But, the one that Kim and Ron thought was the leader of the gang wasn't, and with the help of Rufus 3000 and their past and future selves, they try to save the future by defending their pasts.