Baby Einstein: Baby MacDonald – A Day on the Farm
Theatrical Release:
March 11, 2004
DVD Release:
March 11, 2004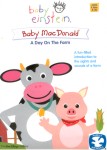 Synopsis
"Baby MacDonald: A Day on the Farm" introduces babies and toddlers to the sights and sounds of life on a real farm. Meet the animals, plant the crops, ride on a tractor, celebrate the harvest and much more! This playful exploration combines traditional nursery rhymes and live-action images with visuals of puppet shows, children, toys, and real-world objects set to beautiful music by Schubert, Schumann and Strauss.
Dove Review
I have seen many of the "Baby Einstein" videos, and I have to say that every time I am impressed. The people who make these videos have a real insight into the child's mind. They teach everything from Bach to Newton and everything in between. "Baby MacDonald" takes the pictures and sounds of the farm and barnyard and brings them into your home. Now you can teach your child the difference between the animals in the form of a fantastic DVD. Baby Einstein uses real life photographs, puppets, sight and sound to teach your kids what they need to know about the farm and also the world around them.