Paul McCartney: The Music and Animation Collection
Theatrical Release:
April 24, 2004
DVD Release:
April 24, 2004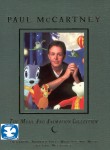 Synopsis
This collection consists of three segments/vignettes that contain original music written by Paul McCartney. Paul states that the ideas that turned him on as a child are the same ones that fascinate him today. He collaborated with well-known animator Geoff Dunbar to create this wonderfully put together collection that can be enjoyed by all ages.
"Tropic Island Hum," first in the collection, tells the story of Wirral the squirrel and his encounter with the eccentric Froggo and his fabulous air balloon. Wirral's homeland is destroyed and the heroic frog saves him, and transports him to a tropical island, where he meets and falls in love with the very lovely Wilhelmina.
"Tuesday," the second piece, is based on the book by David Wiesner. In a mysterious swamp, a terrapin witnesses the strange occurrence of a thousand frogs floating up out of the water on lily pads, to plague a nearby town.
"Rupert and the Frog Song" completes the trio. Rupert fails to find a playmate for the day, and he finds himself following some frogs in an underground cavern, where Frog King and Queen are celebrating their double centenary year. Wonderful music ensues, featuring characters designed by Paul and Geoff to enhance the magic of the original comic strip.
Dove Review
This is entertainment for any family, of any age, anyplace in the world. The work is reminiscent of cartoons in the 1940s and '50s, with a sweetness and clarity that doesn't exist today. Disney seems to produce material that has to include images of corpses, occult, and scary creepy things. I thoroughly enjoyed viewing this, and recommend it for quality of production, content, cartoon characters that don't frighten, but actually delight, and music that flows and is actually sweet to the ear. Well done, Paul and Geoff.
Because there are new guidelines for young children's viewing habits by the American Pediatric Association, I would recommend viewing only one 15 minute segment at different times.
Info
Company:
Buena Vista Home Video
Industry Rating:
Not Rated