Beethovens Wig 2
Theatrical Release:
June 20, 2004
DVD Release:
June 20, 2004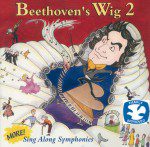 Synopsis
"More Sing Along Symphonies" is the second part of the wildly popular CD series. The first "Beethoven's Wig" garnered an astounding number of awards, including a Grammy Award nomination. Sing Along Symphonies are zany stick-in-your head lyrics set to the greatest hits of classical music. Filled with fact and fancy about the world's most notable composers and their masterpieces, each Sing Along Symphony provides a fun foundation for classical music that will last a lifetime. As a bonus, the instrumental performance of each classical piece is included without the lyrics.
This CD includes the following songs:
Stuck in the Saddle Again
Sing Verdi Very Loud
It's The Same Every Verse
Musical B's
Don't Play That Violin
Schubert's Trout
Dvorak The Czechoslovale
Dove Review
"Beethoven's Wig 2" is a fun collection of "Sing Along Symphonies" that children and families will enjoy listening to over and over again. What they have done at Rounder Kids is to put clever lyrics to some of Beethoven's classics with the goal being to interest kids in these wonderful classical symphonies. I think it works because they are a riot to listen to and you find yourself singing along. The great thing about this CD is that not only does Rounder Kids provide the symphonies with the clever lyrics, but they also include the instrumental performances. The lyrics as well as the lead vocals are done by Richard Perimutter, and he does a very fine job. What a hit for families that wish to make classical music a part of their kids' world.
Info
Industry Rating:
Not Rated