The Dooley and Pals Show: A New Friend
Theatrical Release:
July 7, 2004
DVD Release:
July 7, 2004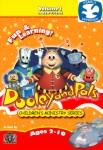 Synopsis
When a new child moves into the neighborhood, Maxx is nervous about meeting her. With the help of Dooley and her friends, Maxx is able to recall when Dooley was the new kid on the block, and eventually works up the courage to welcome the new friend to the neighborhood. Maxx, Dooley and their pals learn that we can become friends with all sorts of people, no matter how different or similar they are to us.
Dove Review
Dooley and Pals show what it's like to meet someone new. A new girl moves in next door to Dooley and Maxx wonders whether they'll like each other or not. Through song and talking through their feelings of nervousness, the two finally meet and become good friends. Dooley shows us that it's just as important to make new friends as it is to hold onto the old ones. This was a good episode.